Smart urban planting for food security
Since the Covid-19 pandemic emerged, leaders around the world has urged their citizens to take farming and food security more seriously. Accordingly, interest in urban farming has spiked.
This workshop will teach you how to design productive micro farms for small urban spaces such as balconies, patios and small plots of land. You will learn which crops to plant, how to nurture them from seed to harvest, and how to accelerate their growth through organic means.
Cultivation is the key skill to have, to meet any VUCA future, and we will teach you how!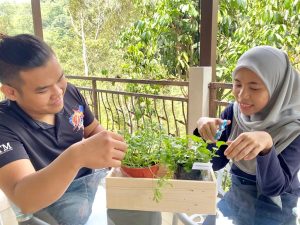 - Principles for designing an edible garden for small urban spaces.
- Selecting plants to maximize food security and nutrition.

- Basics of gardening, to grow healthy plants: Soil, light, water, nutrients.
- Smart practices for enhancing plant growth, organically. Home composting.

practical; 8 hours in-person class
Practice plant care at all stages including harvesting seeds from ripe fruits, germinating, preparing soil mixture, transplanting, watering, fertilizing, recognizing and solving common issues, pest control, harvesting, and different methods of propagating different plants.
- Practice building a small edible garden.
-Choose from 3 designs:
- Leaning ladder,
- Planter box with trellis
- Green wall
(If you wish to bring your creation home, you may purchase the building materials at cost)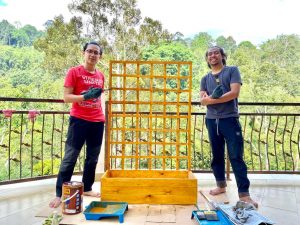 edge team
the edge team within the radiant group are the innovators and sellers of 9 clever edible garden designs, perfectly suited for small urban spaces.
- smart farmers
- science graduates
We are committed to implementing all sanitization and social distancing guidelines as advised by the Ministry of Health, to help prevent the spread of Covid-19. our space u8 workshop is 4,900 sq ft of space, for just 17 students at one time.