Radiant Consulting offers 12 training modules for companies and teams, covering the core skills for success, whatever your area of business!
Radiant's 12 Training Modules
• Available virtually (online) or in-person

• Fully HRDF-claimable

• Always experiential, interactive and fun for maximum impact!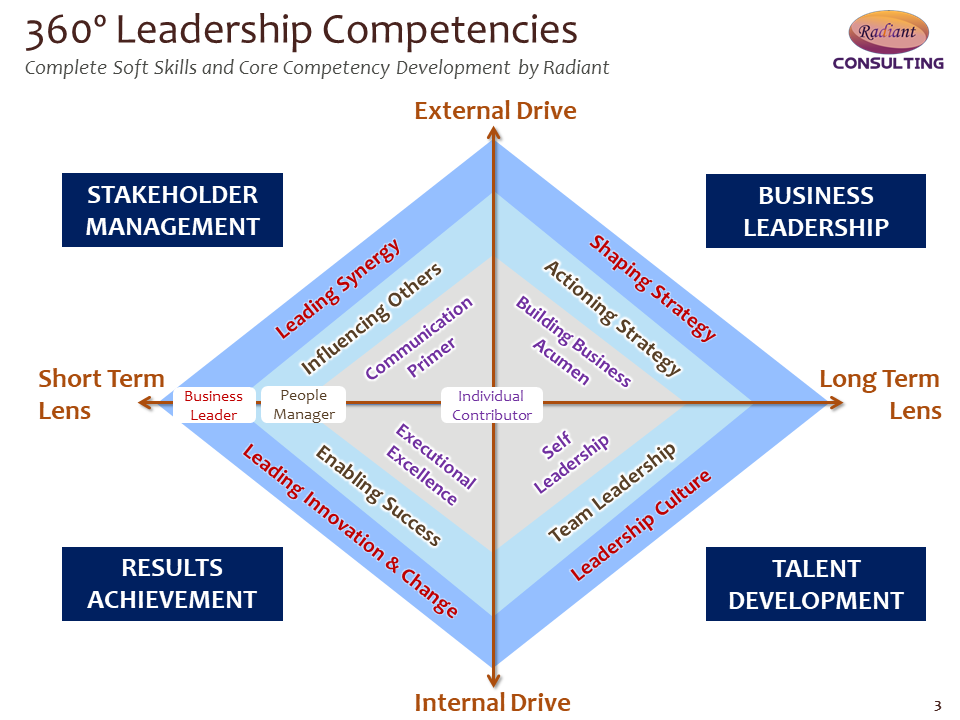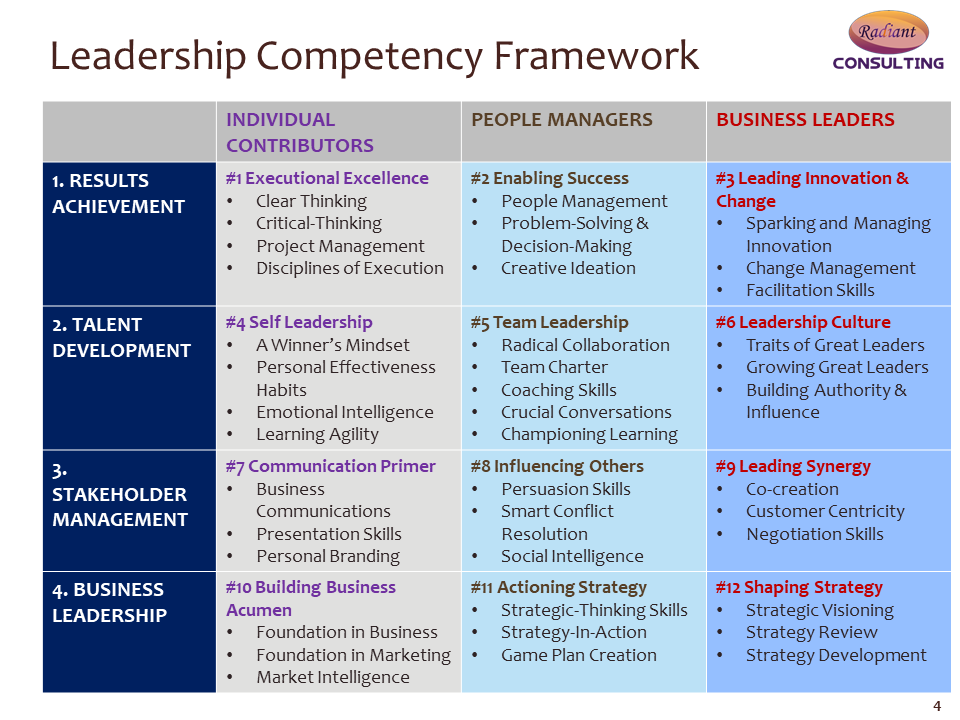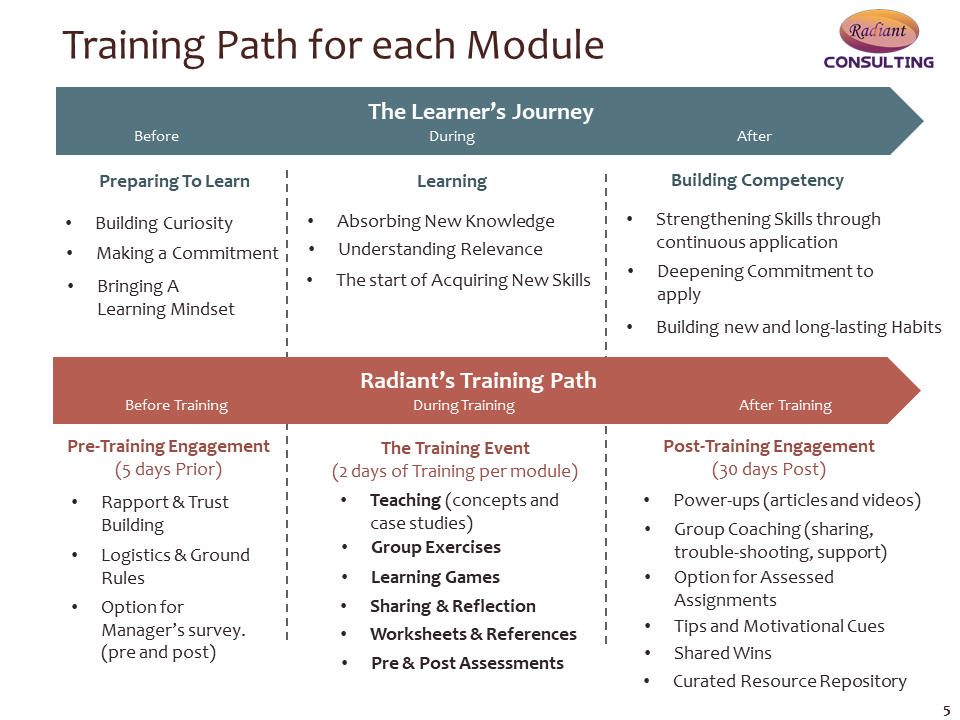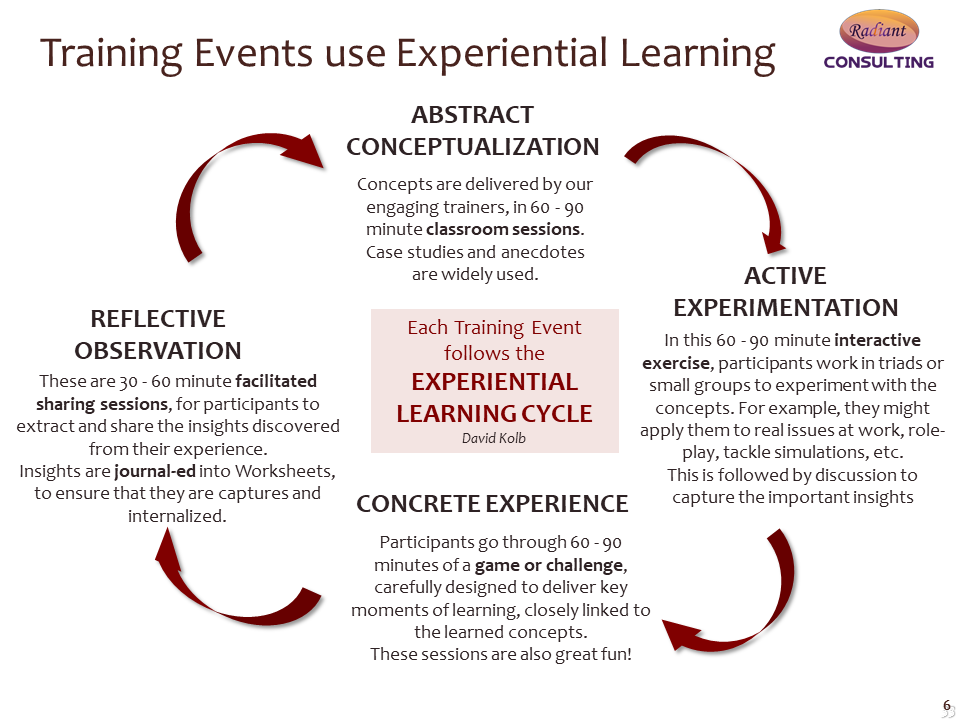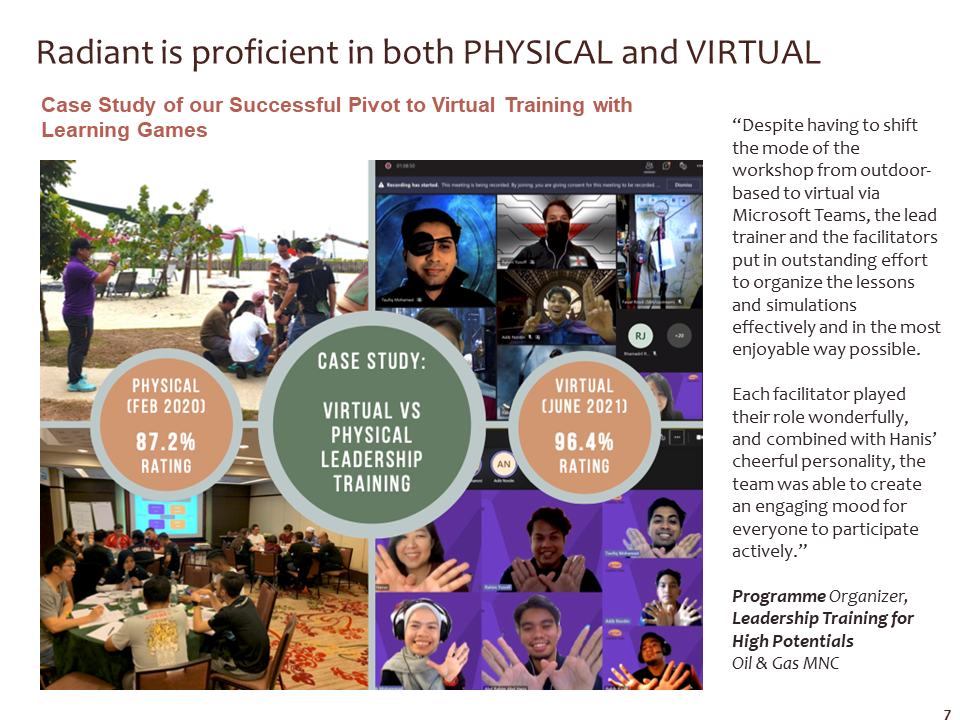 360º Leadership Competencies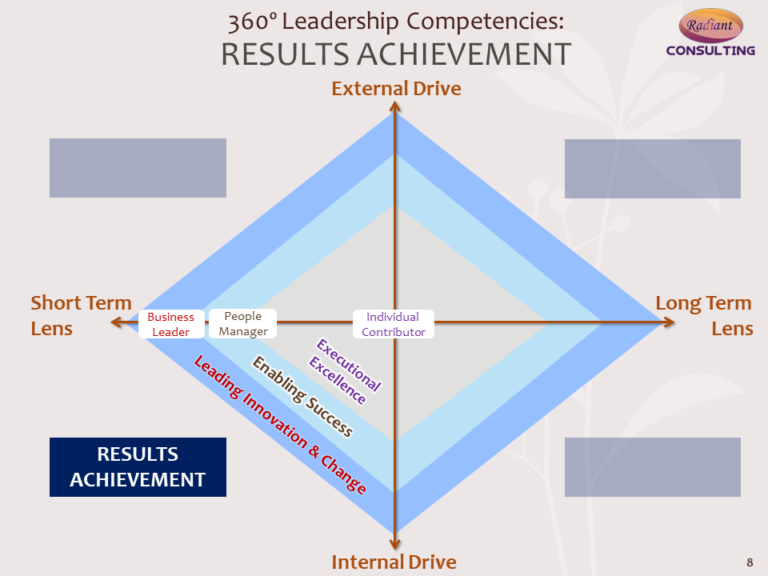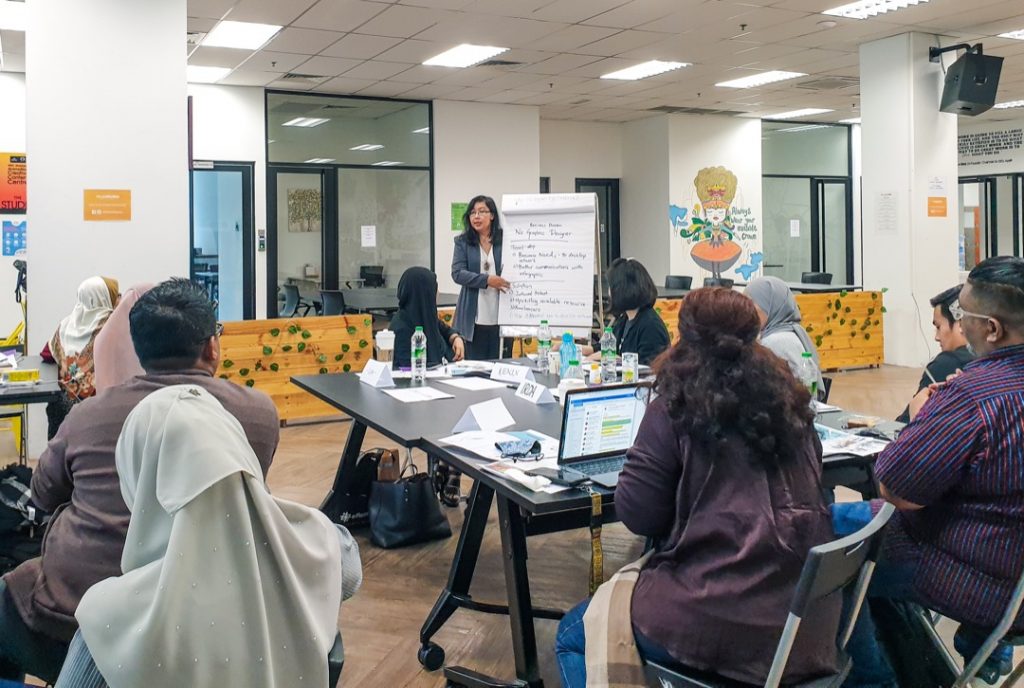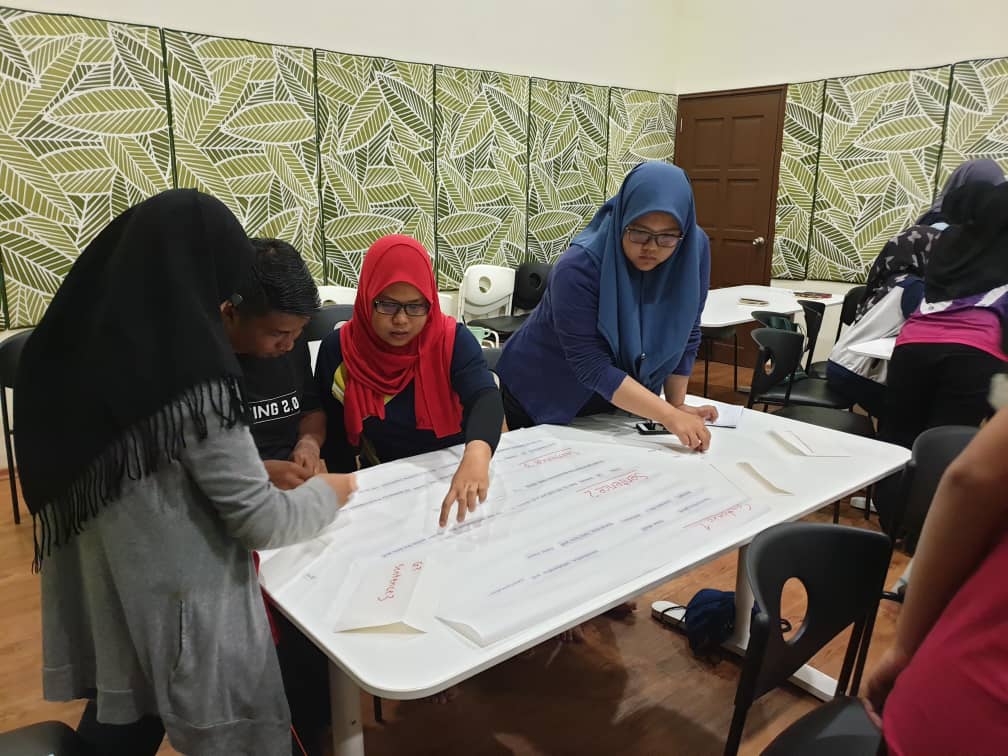 leading innovation and change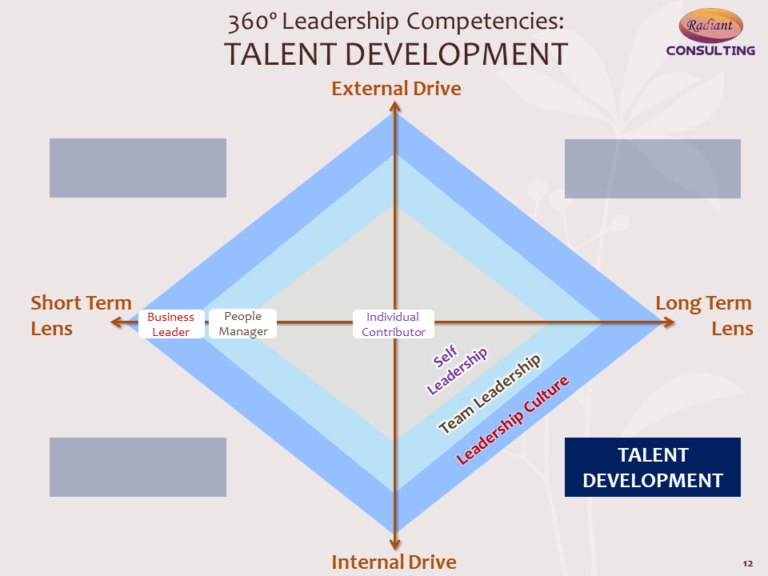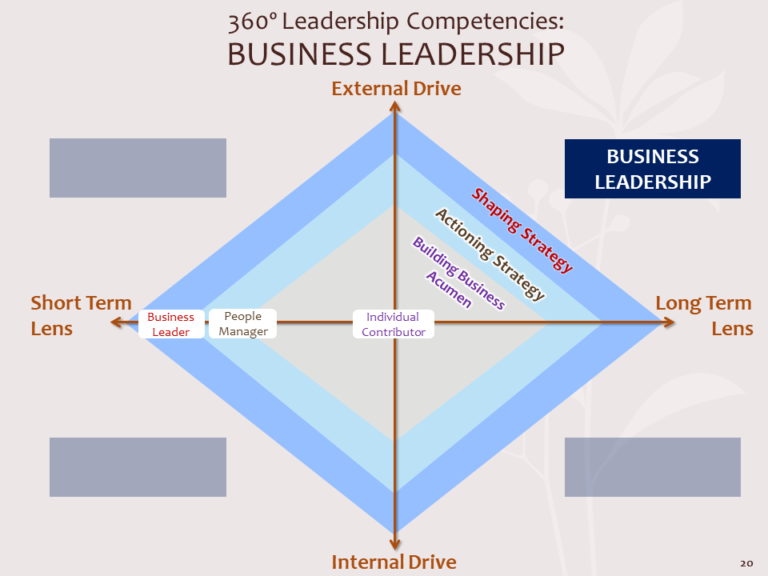 RADIANT'S CORPORATE TRAINERS​
Hanis Harun (Master Trainer)
Hanis Harun is a sought-after corporate trainer t with a passion for preparing professionals and workers to succeed in the 4th Industrial Revolution.

She has conducted many, highly-rated leadership, mindset development, soft skills and business competency training programmes for executives and leaders, including for PETRONAS, MDEC, Lazada, MPM, MISC, EPOMS, REAL Education Group, SVP, Worldhub Comm, KSL Holdings, Sumber Engineering, Premier Hotels and many others.

Before founding the Radiant Group in 2013, Hanis held global leadership roles in two of the world's largest market intelligence companies. While at TNS, Hanis headed global accounts for 8 years, and was based in London for 2 years. At Nielsen, she was the Global Head for Consumer and Innovation Research, Telecoms Sector, working closely with the San Francisco team for 5 years, and gaining valuable insights and exposure during the early days of IR 4.0 in the Silicon Valley.

Throughout her 15 years in corporate, Hanis has led teams, consulted clients and been a speaker in over 30 countries across 5 continents. Today, as CEO of the successful Radiant Group, Hanis has gained even deeper insights into innovation, entrepreneurship, leadership and talent development, this time from the perspective of a dynamic start-up. The mission of Radiant, is to help develop world-class and future-ready Malaysians.

Hanis has a Law Degree and an MBA in International Business from the University of Bristol, UK. She is also a UK-trained and certified facilitator.
Jais Shamsuddin (Senior Trainer)
Jais has more than 20 years experience in the corporate world, leading large operations & service delivery teams in Malaysia for MARA, Mesiniaga and SOCSO, and across Asia Pacific for GES, EDS and CSC.

He has experience servicing and consulting for clients in government, oil & gas, finance, health, defence, telecommunications, airlines, education, retail, services, technology and agriculture.

Jais' career journey was from engineer to project manager, to service delivery manager, to head of governance, to co-founding a successful start-up and growing it to a medium size enterprise.

Jais is an experienced and engaging trainer for Radiant Consulting, and has trained clients including EPOMS (PETRONAS), TERAS, MINDEF, Dewan Bandaraya KL, Maxcare, Majlis Sukan Pahang, The Chicken Rice Shop and many others.

Amongst Jais' professional qualification are:
- Masters in Strategic Business in IT, Portsmouth University, UK
- Certified NLP Practitioner
- MIM-Certified Professional Trainer
-HRDH Certified Train of Trainer
- Certified ITSM Specialist
- Lead Auditor for ISO27000 (ISMS)
- IOAP Certified Outsourcing Professional (HR).
- Member of Malaysia Institute of Management
Anand Markandu (Associate Trainer)
Anand is an adult learning specialist who passionately believes in continuous professional and personal development. He is the founder and master facilitator of Essential workSkills (EwS), a series of programs that provide breakthrough competencies in the 21st-century workplace, with a focus on thinking, productivity, communication, and leadership skills.

He was previously attached to a renowned manufacturing MNC, where he was heavily involved in leading operational and project teams. He also has a wide-ranging background in research, academia, as well as medical equipment training, sales, and distribution throughout hospitals in Malaysia.


Anand has engaged more than 13000 people from 27 countries across all organizational levels, be it face-to-face or in virtual settings. Some of the 80+ organizations he has trained and conducted programs for include Air Selangor, CIMB, Honda, IOI Group, Inokom, Intel, KLK, Lazada, Maybank, Pharmaniaga, PNMB, Sony, Tenaga Nasional, and Western Digital.

He is an alumni of the prestigious Chevening award, presented by the UK government to individuals who show exceptional leadership qualities in their respective fields. The grant allowed him to pursue his postgraduate studies in the UK, where he received his M.Sc. in Engineering Management with Distinction from the University of Exeter.

Anand frequently involves himself in development projects that advance human capital. In 2016, he led his multidisciplinary team to the final round of the Global Business Challenge held in Brisbane, Australia. He was also selected as a lead trainer in "The Thank You Project 2017", a "Malaysia Book of Records" certified CSR collaboration that brought leadership training seminars to schools.

With his distinctive approach and experience from various industries, clients can expect customized programmes that are designed to uniquely fit the needs of their people. Participants can also look forward to engaging, interactive, and immersive sessions, as Anand has honed his delivery skills by being an active member of Toastmasters International, where he has also gone on to win numerous speech contests at various levels. Find out more about Anand at https://www.linkedin.com/in/anandmarkandu.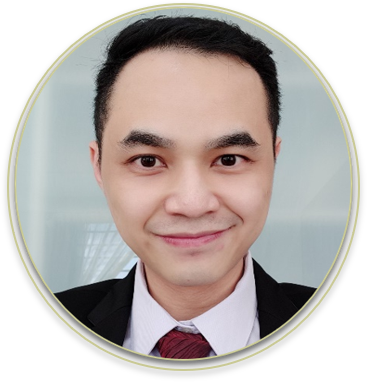 Phuang Chui Kean (Associate Trainer)
Teacher Kean (Phang Chui Kean) strongly believes that we can effortlessly achieve extraordinary results when we re-write the way we approach situations.

He is a highly sought-after Trainer and Public Speaker who specialises in:
1)Parenting and Work-Life Balance
2)Persuasion and Presentation via Storytelling.
3)Critical Thinking and Problem Solving.
4)Leadership and Communication.
5)Equipping Interviewers with Interview Skills

Teacher Kean graduated with a LLB from the University of Manchester and is a Barrister Member of the UK Bar Council, where he graduated in the top 10 percentile of his year. Whilst in corporate legal practice, he was quickly recruited by a top Investment Bank in Malaysia, and holds the distinction of being the youngest promoted Vice President of that financial institution.

He carries with him substantial experience from his Investment Banking career, where he has managed multiple Billion-Ringgit transactions, including privatisations, fund raising exercises, initial public offerings, corporate mergers and acquisitions. He subsequently joined a private equity firm, managing millions in investment funds for Middle Eastern clients.

Teacher Kean eventually ventured into the education industry, where he founded a high-performance private education institution. As a Licensed Headmaster under the Ministry of Education of Malaysia, his data-driven methods and pedagogy are reflected in the systematic yet playful approach of his training courses.

Today, in addition to his public speaking and training work, he is an influential .writer on LinkedIn and other social media, where tens of thousands read his posts on a daily basis.

Blending his advocacy skills, corporate and financial experience, technical pedagogy from the education sector, and a vibrant personality, Teacher Kean's training sessions are unique and impactful. They are packed with practical exercises, case studies and immersive role-play exercises, all meticulously designed to deliver lasting and meaningful development for his participants.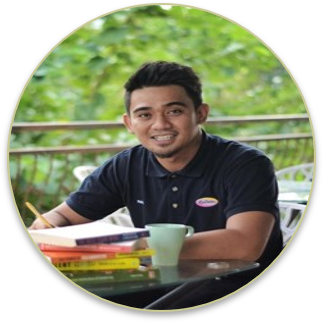 Rakib Rasid
(Trainer)
Rakib is a founding employee of the Radiant Group, from our early days as a start-up, and has been instrumental to our business success.

He now manages a large team of facilitators. Rakib is a talented and experienced coach for performance and growth, and has a keen interest in team development and coaching.

Rakib is also part of Radiant Consulting's team of trainers. He holds a HRDF Train The Trainer certificate, and has conducted training for a variety of clients, including Maktab Tentera DiRaja, Giordano, Teras Asnaf, Hero Mart, Polytechnic Shah Alam, MUIS of Singapore, Tentacle, KPJ Kuantan, City Music, Sunway Marketing and KL Fertility.

Rakib holds a Bachelor of Science Degree from UPM.

He is also highly qualified for the outdoor experiential-learning activities which often accompany our classroom training. He holds qualifications from Persatuan Jurulatih Rekreasi Malaysia, The Red Crescent Malaysia, Malaysia Canoe Association, Rescue 3 International and the Life Saving Society of Malaysia.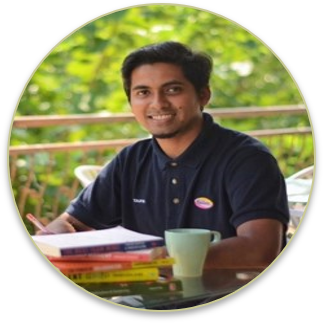 Taufiq Mohamed (Trainer)
Taufiq is one of the earliest employees of Radiant Group, and has grown to be a leader in our facilitator and trainer team.

He is a passionate coach for personal and leadership development amongst youths. Within the Radiant Group, Taufiq is in charge of continuous learning and development for our dynamic team.

Taufiq is also a qualified trainer for Radiant Consulting. He holds a HRDF Train The Trainer certificate, and was awarded Outstanding Participant. He has conducted training sessions for corporations such as Maktab Tentera DiRaja, TERAS, PETRONAS Chemical, USIM, ISS, TNB, Bank Negara, Indah Water, Merge Energy and DKSH.

Taufiq holds a Bachelor of Science Degree from UPM.

He is also highly qualified for the outdoor experiential-learning activities which often accompany our classroom training. Taufiq holds various qualifications from Persatuan Jurulatih Rekreasi Malaysia, The Red Crescent Malaysia, Malaysia Canoe Association, Rescue 3 International and the Life Saving Society of Malaysia.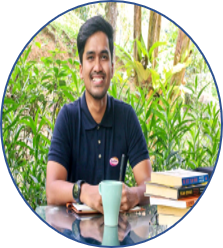 Asyraf Shuib (Trainer)
Asyraf is a qualified trainer with the Radiant Group, and is passionate about teaching and learning. He holds the HRDF Train the Trainer certificate, as well as a Masters degree in Curriculum and Instruction from UPM.

Before joining Radiant Group, Asyraf lectured at the tertiary education level at several institutions.

Amongst his experiences is being an ESL instructor for students from Malaysia and internationally, conducting workshops at many international conferences like ICELT, MICELT, MIRCELLE, conducting Communicative Workshops and Soft-skills Workshops, and being an instructor for various camps with international students.

He has taught communication skills, presentation skills, and leadership skills to pre-degree, undergraduate, postgraduate students, as well as working professionals.


Rahim Yusoff
Bachelor of Science, UMT.
Assistant Manager.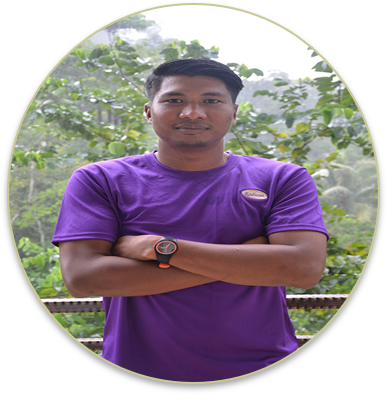 Amin Jusoh
Bachelor of Science, UITM.
Senior Facilitator.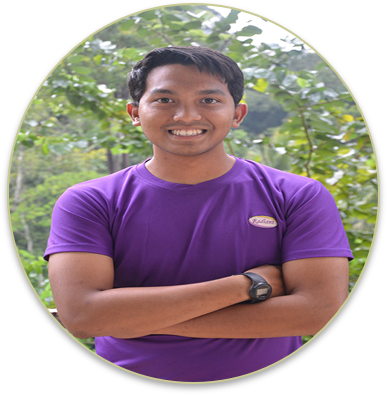 Adib Nordin
Bachelor of Science, UM.
Senior Facilitator